Forget about Hollywood, well known celebrities and sports people have popped up all over the county over the last weeks.
Colin Farrell and Jessica Chastain are currently shooting a movie adaptation of Strindberg's groundbreaking play - Miss Julie. Oscar-nominated Zero Dark Thirty star Jessica Chastain has been lined up for Miss Julie, to be directed by Norwegian actor-director Liv Ullmann. Colin Farrell has been cast alongside Chastain, and Samantha Morton is also due to take a role.
Strindberg's play was written in 1888 and first performed a year later, and pioneered the use of theatrical naturalism to tell its parable of class and power. Miss Julie is a count's daughter who finds herself attracted to her father's footman, Jean. It is not know if Ullmann plans to stick to the play's original setting – a Swedish country house in 1874 – or rework it for a different period. The last significant film adaptation was the 1999 version directed by Mike Figgis, with Saffron Burrows and Peter Mullan in the lead roles.
Lilley's Centra on the Shore Road, Enniskillen have even made some special new flavours for Colin Farrell (Cola Farrell) and Ulster Rugby (SUFTUM Baby)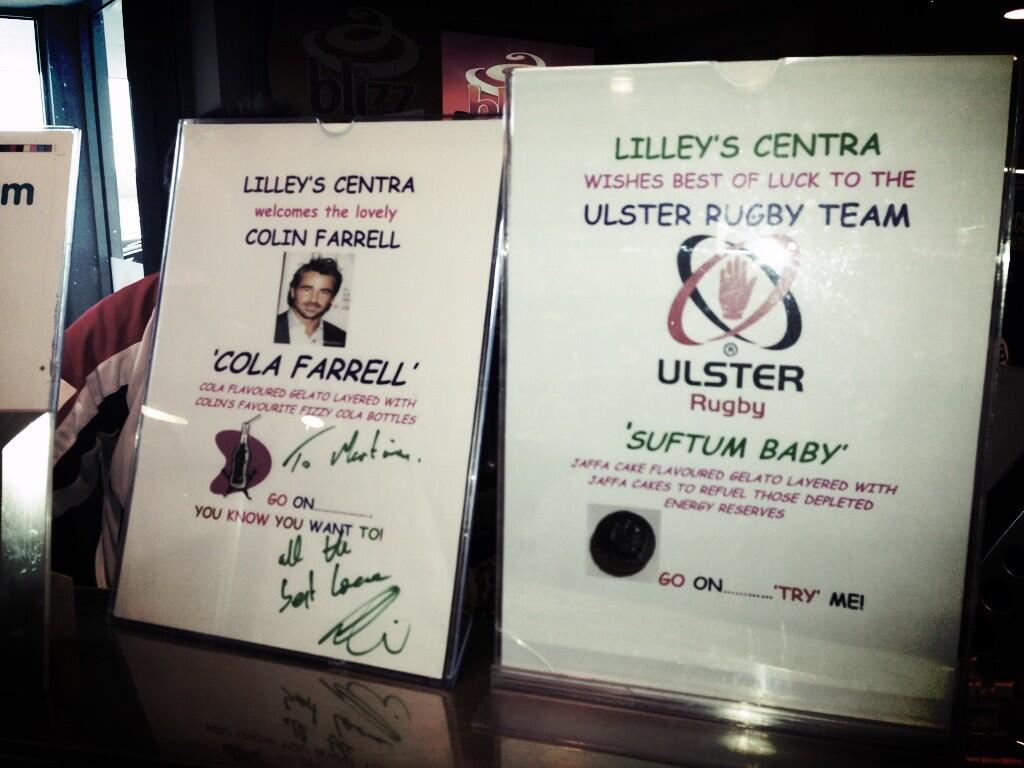 The Ulster Rugby team have also been training in the area. Staying at the 5 star Lough Erne Resort, Coach, Tony Anscombe and his team have been trainning on Portora Royal School Rugby pitches and using the spa facilities at the resort in preparation for this weekends European Cup Quater-final in London against Saracens.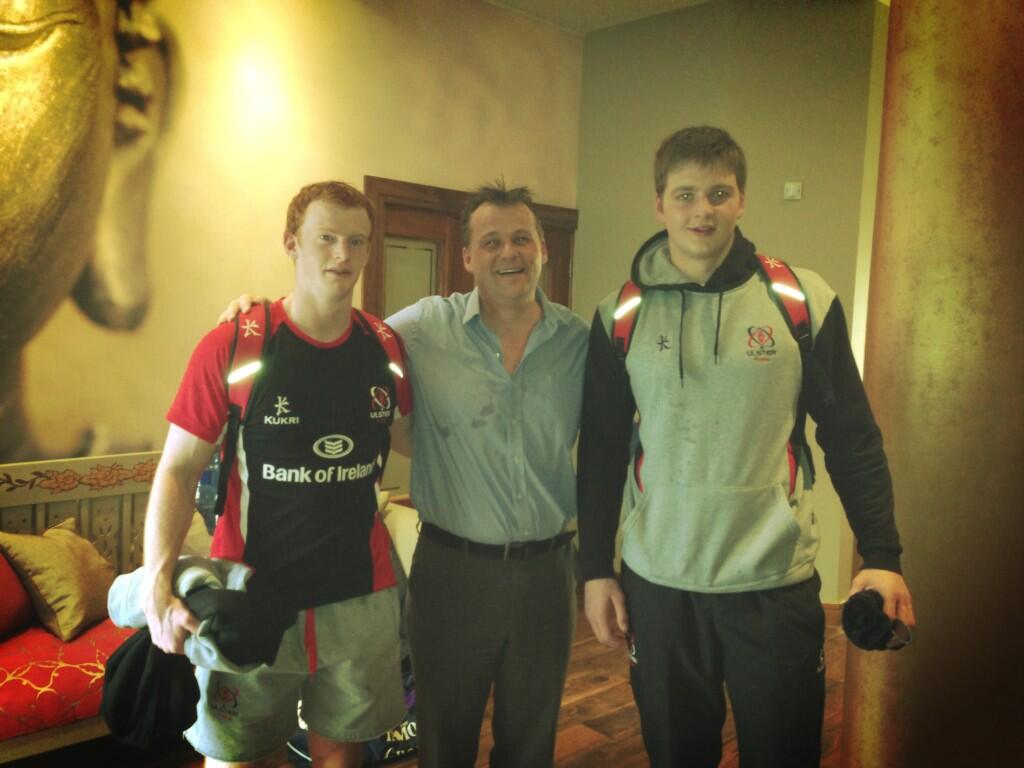 I've been lucky enough to meet a Colin Farrell and a few of the rugby guys. They have all been very approachable. I found a few tips for you to remember if you meeth celebrities when in Enniskillen.
Find the right time to approach them. You would not want to be bothered by a stranger if you were in the middle of an important conversation, would you? Try to wait until the person is unoccupied or until they finish a cell phone call.
Approach politely. Smile and introduce yourself gently.
Open with a compliment. Do not overly flatter a celebrity, or you will sound phony. Be specific. For example, tell them you thought they were great in a certain role or that you appreciate their work for a certain charity. Do not give a generic compliment, such as "I'm your biggest fan," and do not critique the person.
If you have something obviously in common with them, share this information. Building a rapport through similarities is a great way to get anyone talking to you.
Explain what you want. If you just want to chat and enjoy the moment, fine. If you want an autograph or picture with them, politely and quickly ask. Be prepared and make sure you have a pen and a paper to autograph handy before you approach them. If they consent to give you an autograph, hand them the notepad; do not make them wait. As well, make sure your camera is ready if you want a picture and never approach them by sticking your notepad or camera in his or her face.
Watch their body language. Body language can clue you in on how they are feeling about the interaction. If they appear rushed or if they keep walking as you are talking, or if they glance at their watch, be sensitive to that time crunch. If they seem distressed, this probably is not a good time to talk.
Converse with them if they appear to like you, but remember they may just be trying to be polite. Try not to drag the conversation on.
Avoid overly gushing. Some celebrities cannot get enough compliments; they like to hear how great you think they are. In general, too much enthusiasm on your part may embarrass them, or scare them off.
Be a good listener. If they actually engage in a conversation with you, pay attention to what they are saying. Do not interrupt them, but build upon their statements as you would for any good conversation.
Stick to talking about their public life. Unless the celebrity brings it up, it is usually best to avoid conversing about his or her family or other private issues. At the extreme, this can seem very creepy.
Be discreet. Do not draw attention to a celebrity if other people have not recognized them. While one fan may be tolerable, ten or fifteen fans crowding around is certainly not.
Take pictures discreetly. If your camera is handy, either take the picture from a certain distance, or ask them if they would mind if you snapped a quick photo. However, if the celebrity is in disguise, it would be much better to photograph him or her from away, as you should not draw any extra attention to them. Do not take a picture of you and the celebrity, without asking for permission first. But, if the star is friendly, you could ask if they would let you have a picture taken with them.
Wrap up nicely. Be sure to thank the celebrity for his or her time or for an autograph or photo, and say something like, "It was great to meet you."
Accept rejection. It is okay for you to ask quickly for an autograph or photo, but it is also okay for him/her to decline. If your request is turned down, do not force the issue. They are allowed to have their personal space. Don't be pushy.
Try to call them by their public name. Do not call them by a nickname, as that is too familiar! You do not know them, they don't know you. Do not call their names out loudly, unless in a meet or greet situation, where it is expected.
For more information visit http://www.wikihow.com/Know-when-to-Talk-to-a-Celebrity